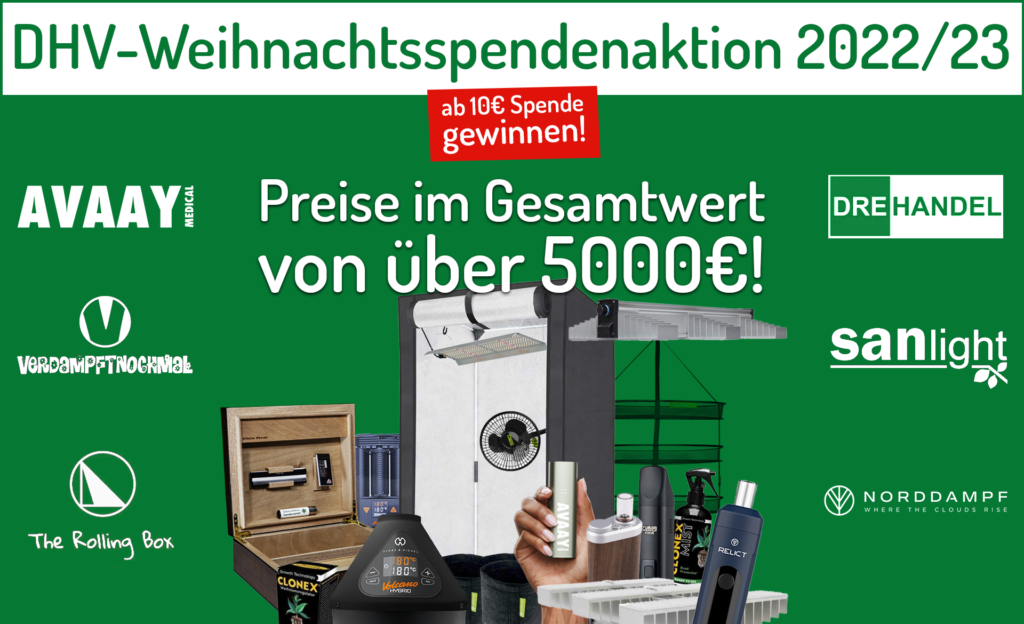 We at NORDDAMPF participated in this year's Christmas competition of the German Hemp Association (DHV), which started on December 1, 2022. The German Hemp Association advocates the legalization of cannabis in Germany.
We supported the DHV Christmas raffle with high-quality products from our range. The association depends on sponsorship and the income from the sweepstakes because this is one of the ways it finances its work.
About the DHV
The DHV is in favor of legalizing cannabis as a stimulant. The aim is, among other things, to promote hemp as a raw material in order to be able to use its diverse potential in medicine and other areas of application. The DHV sees several problems associated with the prohibition of hemp: Black trade, suffering of consumers and patients, illegal money in the legal economy. Legalization would solve these problems.
With reference to the now numerous people in politics and society who are openly opposed to the legalization of hemp, the DHV advocates for the stimulant through several channels. The DHV is much in contact with politicians and does concrete lobbying for the legalization of hemp. In addition, the various media on the Internet are filled with initiatives and educational information.
Our Christmas Raffle Sponsorship
NORDDAMPF has sponsored 10 high-quality grinders and other accessories for the DHV Christmas raffle. Thanks to the sponsorship, the DHV finds it easier to finance the gifts, leaving more financial resources for the association's work in the new year 2023.
The NORDDAMPF grinders and the rest of the accessories we donated are characterized by excellent material processing. Maybe you will be one of the winners who will hold one of the NORDDAMPF grinders in your hand at the end? If not, then you will find enough accessories in our store to buy something suitable yourself. Have fun!